Reviving Osmo's Parent App
Unlocking the Secrets to Sustained Parental Engagement
While Osmo's games fascinate kids, how do we captivate their parents?
The Osmo Parent App faced a pivotal challenge: turning initial user curiosity into lasting engagement.
Leaning into my learning sciences background, particularly my Ph.D. thesis which focused on the nuances of interest development and its intrinsic link to engagement, I focused on the key ingredients that make parents not just sign up, but happily stick around for the long haul.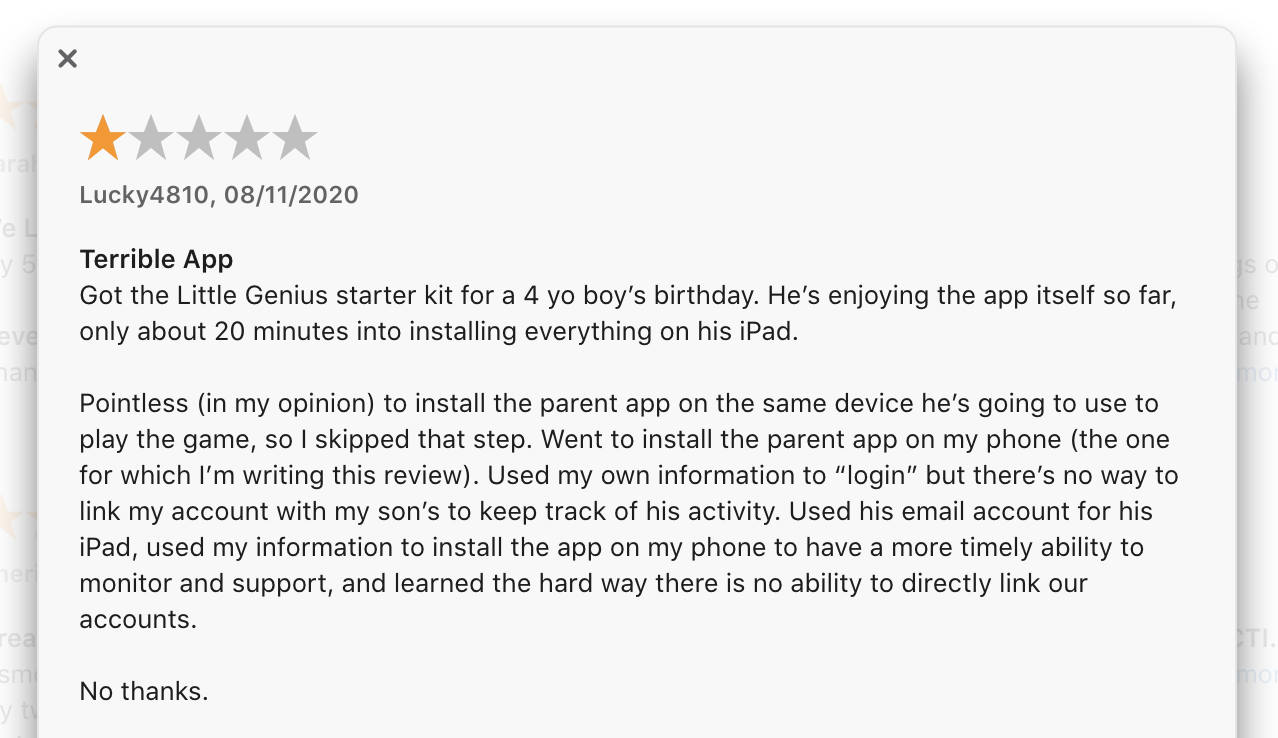 Problem
As described above, there was an alarming disconnect between the Osmo's Parent App and child's gameplay data. Parent App was grappling with a glaring issue of fleeting user engagement.
Parents installed the app but uninstalled it almost instantly or never opened the app again-- a clear indication that there was little to no perceived value.
Solution
We immersed ourselves into the experiences of six families. These intimate conversations allowed us to comprehend what would truly make the Parent App indispensable in their Osmo journey:
Crafting moments of joy through visible displays of child progress.

Providing a window into the child's gameplay.

Arming parents with insightful strategies to actively support their child's navigations- be it through hurdles in the game, encouragement on a recent game creation, or fostering a blossoming interest in a subject.
10
changes made to the UI
4.5⭐
Apple Store rating based on 2,401 reviews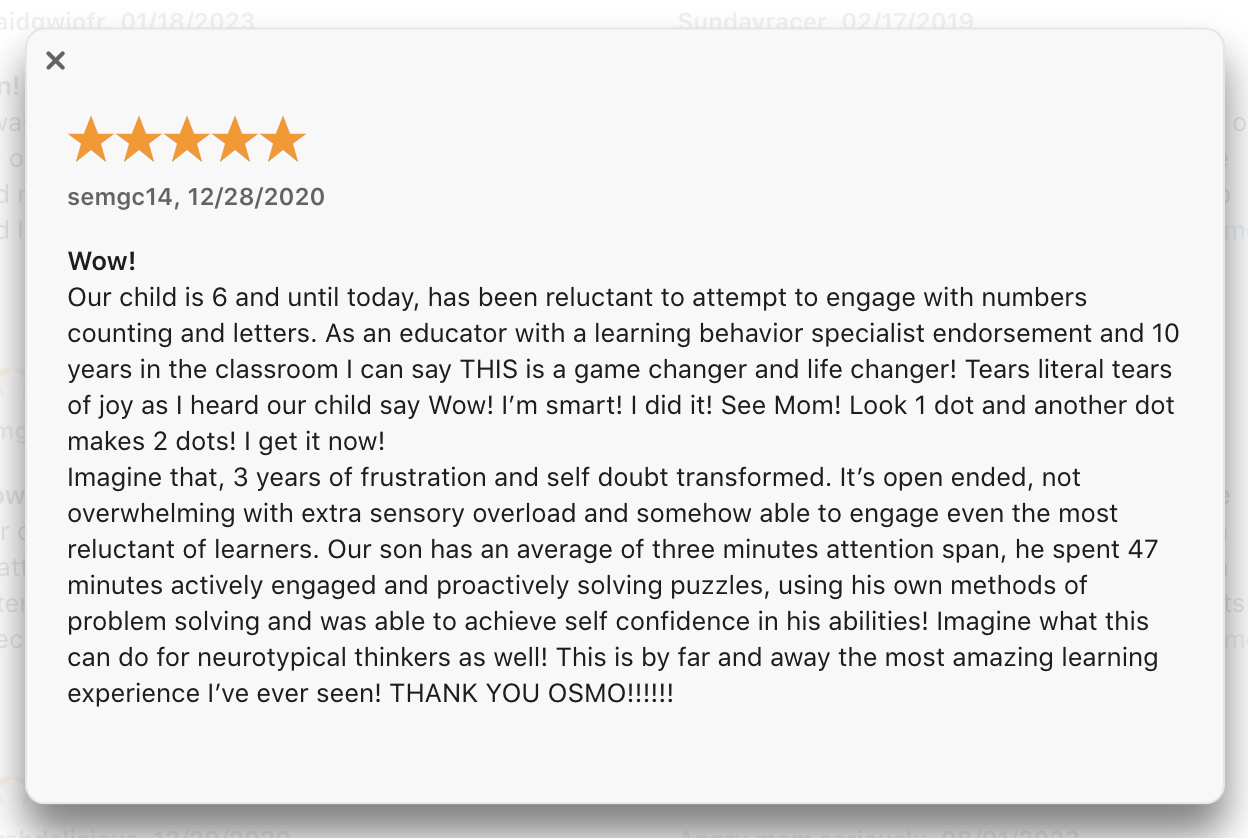 Timeline
March 2022
Industry
Education
Gaming
Core Team
Sherry Yi (Lead UX Researcher)
Tony Wang (Product Designer)
Cindy Torma (UX Researcher)
My Role
Crafting interview protocols
1:1 interviews
Training/mentoring colleagues
An inspirational quote fades into the app's opening screen. A daily nugget of wisdom intended to resonate with the user.
"Do you believe this will engage them?" I asked.
The confident "yes" I received left me wondering. I imagined a parent, weary from the day's battles— work, kids, chores, all the relentless, tiny disorder that compile in a day— sinking into the couch, perhaps a coffee or alcohol of choice in-hand, with Parent App opened, greeted by a quote. Was this a necessary safe haven? I had doubts.
While the team leaned into ideas of gamification, imagining log-in streaks and point rewards for future discounts to boost engagement, my gut sensed a misstep. The mission: proving there were alternative solutions, without blindly heading down the gamification route, and here is where our story begins.
Ensuring the PM and the new designer were allies was step one. I expressed my concerns, proposing a user test to validate our respective theories. What did they hope to gain from research, and how would they leverage those insights? The PM, who I'd assisted on a previous project revamping the onboarding process, extended trust my way. That trust became the keystone, affording me the autonomy to craft a study that catered to our collective curiosities.
Objectives
Teaming up with Tony, we crafted key study goals, focusing on:
Exploring User Perceptions & Needs
Understand perceptions of both existing and redesigned app features (Dashboard, Feed, Game Progression Detail, etc.) upon first encounter.


Pinpoint data that parents need on the Feed and Dashboard to enhance their engagement with the app and Osmo.
Optimizing User Experience & Interaction
Ensure our study spotlighted user experience, sidelining retention, by evaluating app features.


Identify the most intuitive navigation path for parents through various game settings (Feed, Dashboard, Settings).
Enhancing Engagement through Gamification
Discover how gamification and goal setting can bolster both parent and child interaction with the Parent App.
Participant
We recruited six families with children between 3- and 8-years-old, which is Osmo games' target demographic.
I sought families who were likely less tech-savvy than our Silicon Valley neighbors. My move from the Midwest to California was an eye-opener regarding regional tech trends (hello, QR codes I'd never seen before)!
Thus, it was important that we gather a mix of perspectives, ensuring our UI/UX design spoke to all users and not just the tech-literate ones.
Our families, though varied, did share a few commonalities: they spoke English, had the necessary tech, and lived a good distance from tech hotspots.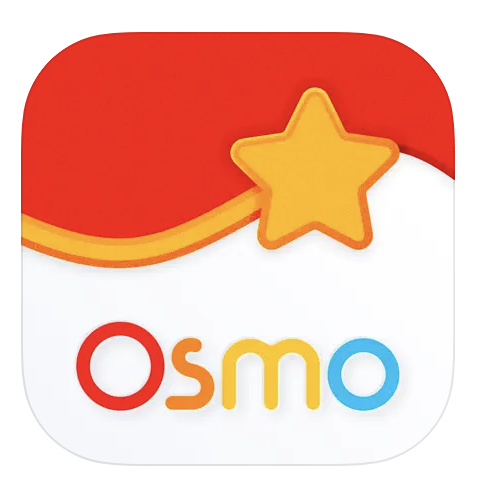 Method
To fully grasp parents' perceptions of the app's, engaging in thorough conversations was crucial. Consequently, I structured our approach around 1:1 in-depth interviews to uncover nuanced insights.
We targeted inactive Parent App users for our study, focusing on those with non-school U.S. accounts who have engaged minimally with the app, but with children who have played Osmo's main games regularly over the last two months.
Phases of Research: A Cooperative Learning Journey
The project was divided into three rounds, each aimed at both garnering research and developing my colleagues' interview skills.
Learning Together: Colleagues Tony and Cindy shadowed my initial interviews before engaging in personalized mock sessions. Subsequently, they led interviews while I observed and offered assistance when necessary. After each interview, I scheduled time for us to debrief and discuss.
Constructive Feedback: Post-project, our team exchanged anonymous feedback, evaluated performance, assessed confidence growth in conducting interviews, and identified areas for improvement.
Adapting Feedback for Efficient Development
Adopting an agile approach, we aimed to swiftly launch the new Parent App version, ensuring timely but informed design changes.
After noticing recurring feedback in the first round of interviews, we iteratively adjusted our Figma prototype and updated the interview protocol to match, maximizing the effectiveness and exploration of subsequent user testing sessions.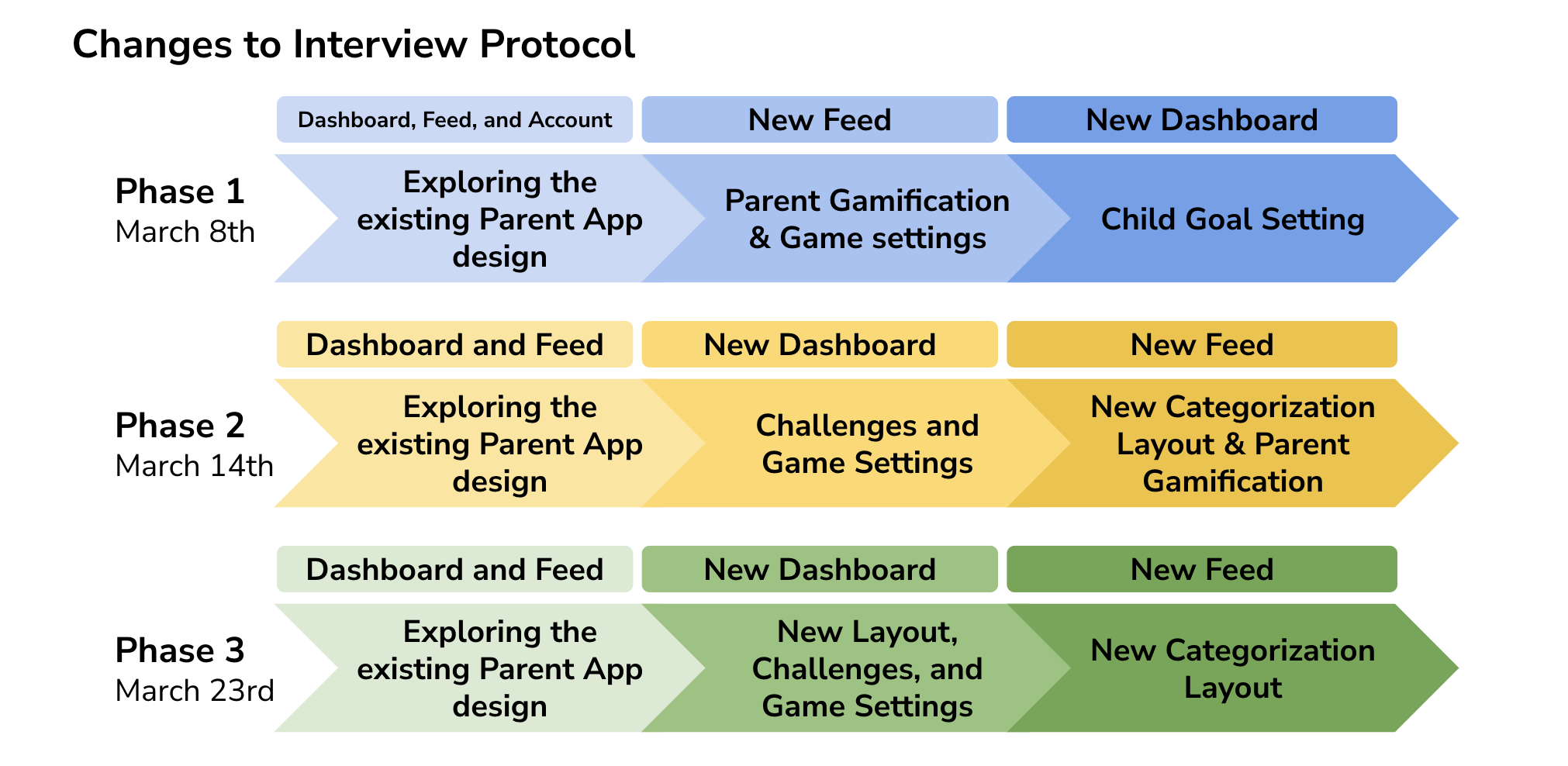 In the first round, we tested the Dashboard and Feed.
Dashboard Insights
Diverse User Needs
One parent who closely monitored her child's Osmo play wanted micro-level data from the Parent App, while another whose child played with a nanny due to full-time working parents preferred macro-level insights.
Issue: Users' requirements for the Parent App interface vary.

Solution: Adopt progressive disclosure* on the Dashboard. This caters to less involved parents while also offering detailed data for those wanting an in-depth look.
Gamification: Goals
Issue: Ambiguity around in-game rewards and target audience (i.e., is the goal meant for the parent or the child?).

Solutions: Proposed pop-ups, cards, and information buttons for clarity on quests. I recommended delightful, collection-focused rewards, like an interactive treasure chest with our most popular character, Mo the Monster.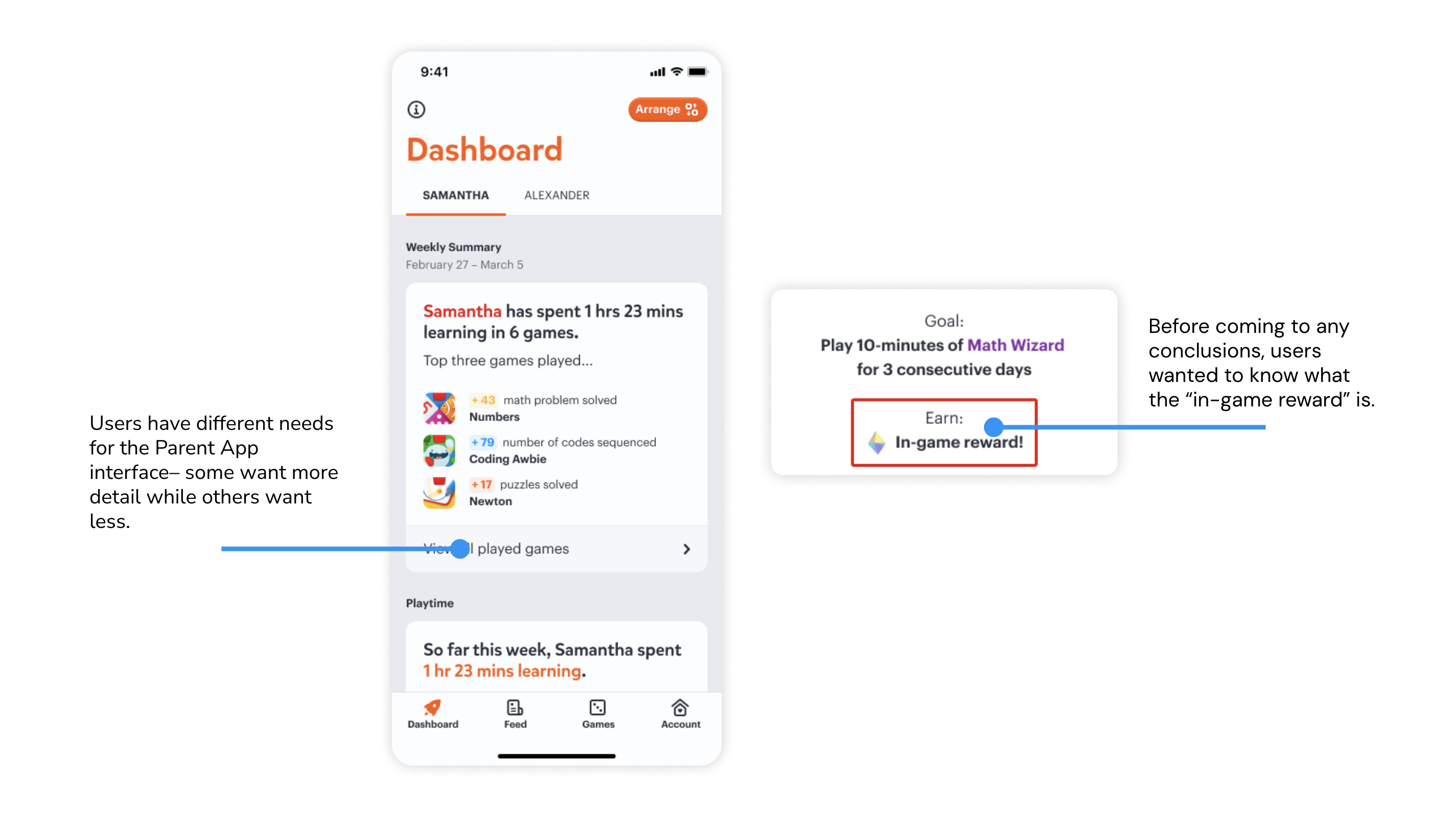 Feed Insights
Log-in Streaks
Issue: Strong initial indicator that users want Parent App to center around their children, not themselves.

Solution: In Round 2, removing emphasis on streaks located at the top of landing page. However, user behavior may still be positively impacted by gamification features. Suggested A/B test on real users to evaluate.
Inspirational Quotes
Issue: Daily inspirational quotes were not compelling for users.

Solution: Moved quote feature to the loading screen.
Engagement Booster
Issue 1: Users are more likely to return to the App if the cards (white blocks) provide guidance on the next steps for their child and promote both virtual and real-world parent-child activities.

Issue 2: The cards were limited to only 2 Osmo games.

Solution: Highlight conversation starter cards in the Feed and possibly expand game insight cards to more Osmo games.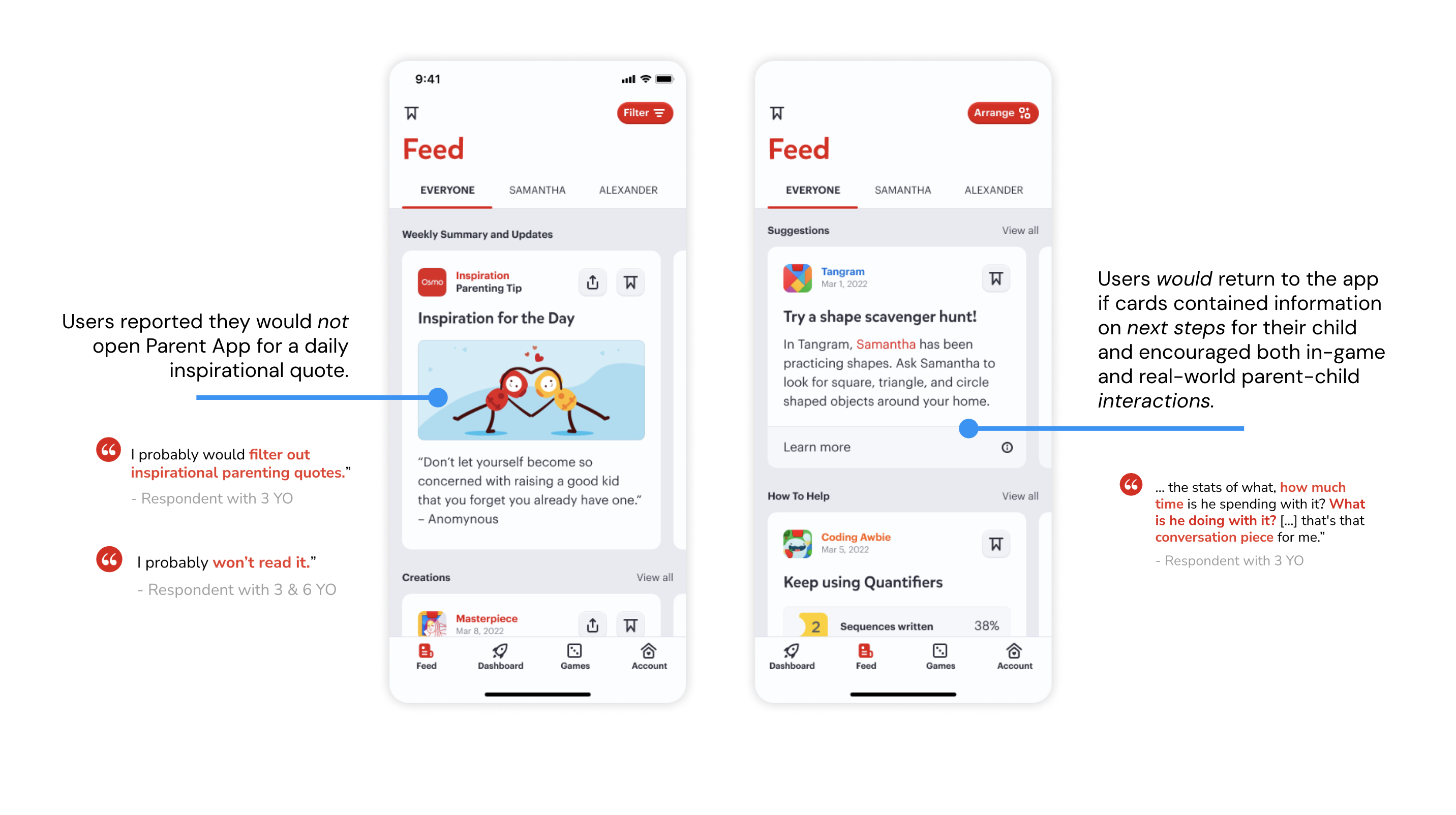 In the second round, we tested the Dashboard, Feed, and Game Settings.
Dashboard Insights
Diverse User Needs (Cont.)
Knowing that users' requirements for the Parent App interface likely varied, we kept the same Dashboard design to gather more perspectives.
Issue: Users wanted to know what their child was learning in broader strokes, such as skill sets or themes.

Solution: Some users may prefer more detail about current target skills and progress to show on the dashboard instead of numerical aggregations (e.g., "addition" as opposed to "43 problems solved").
Gamification: Changed from Goals to Weekly Challenge
Issue: Users perceived the goals as inflexible, limiting viable audience.

Challenge: Provide users the option to directly set or edit presented challenges to tailor to family schedules and to the desired skills to practice.
At this point, we shifted our focus from gamification to enhancing the app's core: the Dashboard and Feed, planning to revisit gamification later as it was a more complex challenge than the team initially expected.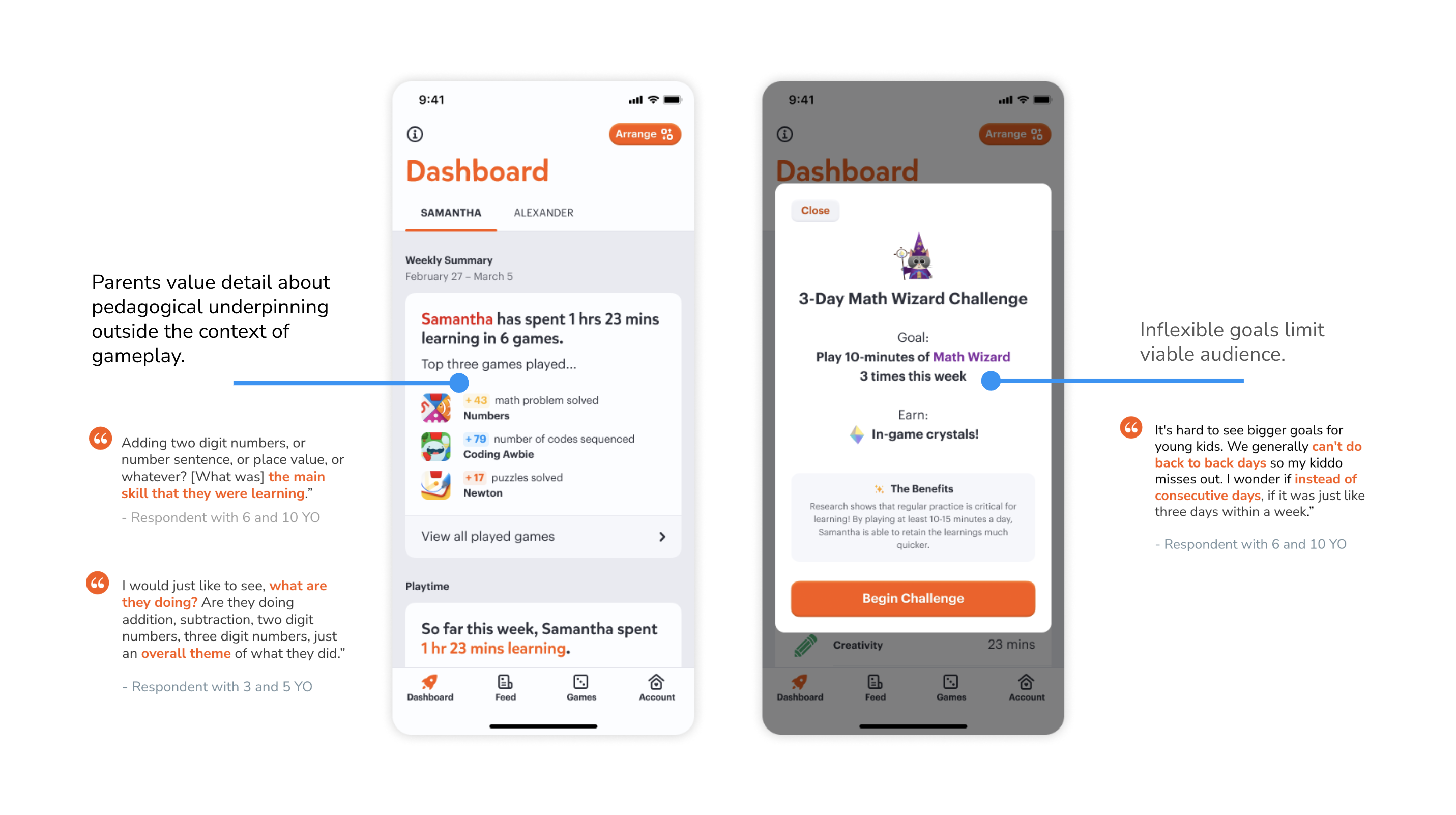 Feed Insights
Issue: Despite our initial infinite scroll design (similar to the Dashboard), users favored horizontal categorical scrolling, especially when cards were sorted by purpose.

Solution: Switched the Feed to a horizontal categorical scroll layout.
Game Setting Insights
Edit Game Settings
Issue: The button's location was unclear, and users assumed settings were automatically adjusted based on each child's educational level.

Solution: Relocate 'Edit Game Settings' closer to individual child profiles, ensuring game settings adjust for multi-child households based on the active profile.
Game Progress
Issue: Lacked contextual reporting on progress.

Solution: Incorporate detailed context on a child's performance, emphasizing accuracy, level, and skill progression.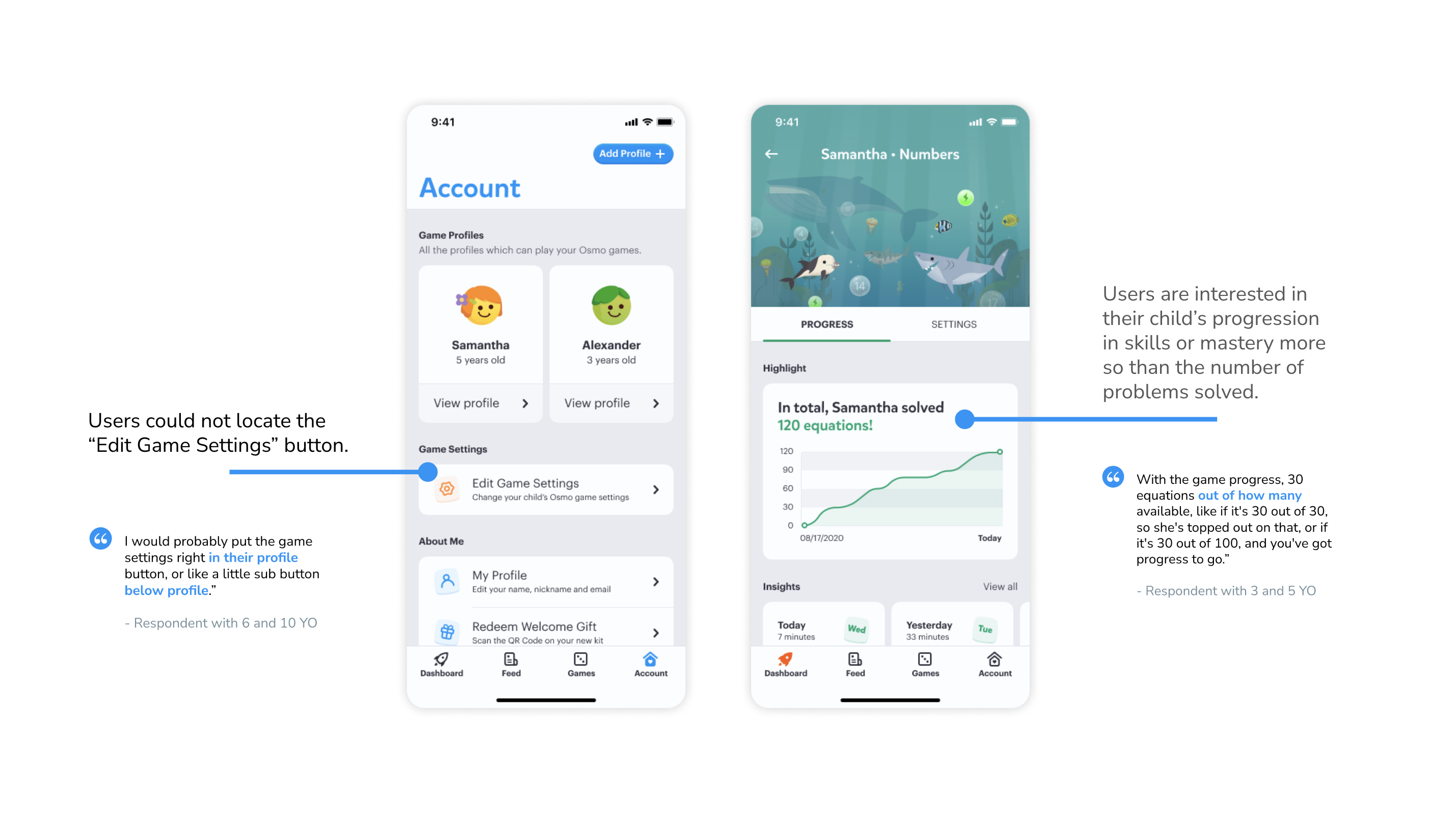 In the third and final round, we tested the Dashboard and Feed.
Dashboard Insights
Preferred Landing Page
One user said, "I like the Dashboard first. It shows what have we done, what are we doing, where should I start, where should we pick up on... the dashboard is like the business side. The feed is the fun."
Issue: Users naturally gravitated to the Dashboard as their initial focus point.

Solution: Set the Dashboard as the default home page to facilitate user's focus on their child's learning journey.
Consolidated Game Activity and Data
One user said, "I'd really drill down to get very specific details on the problems to see what they're getting wrong. I'd help if she was having a hard time."
Another said, "I wish I can see what progress is made? Where are the mistakes? If they're making the mistake, I can help."
Issue: Users sought detailed insights into their child's learning progress and areas of struggle.

Solution: Integrate Game Activity into the primary Game Progress screen, streamlining access to detailed learning data.
Feed Insights
Content Categorization
One user said, "If you could even categorize the feed to see it just by achievements, conversation starters, or I'm trying to look for suggestions… and see it just in a different way [to see value]."
Issue: Users found the Feed overwhelming and at times bypassed it, even with an "arrange" customization feature.

Solution: Segment the Feed into distinct categories, enhancing user navigation and content selection.
In summary, we observed these core issues:
Data Visualization
The app must harmonize detailed data and broad overviews to satisfy parent needs.
App Focus
A desire emerged for a personalized, child-centric Parent App, spotlighting learned skills and child's performance without a parental gamification element.
Frequency
Users envision checking the Parent App weekly/bi-weekly, especially post-child gameplay, rather than daily, even with reminders.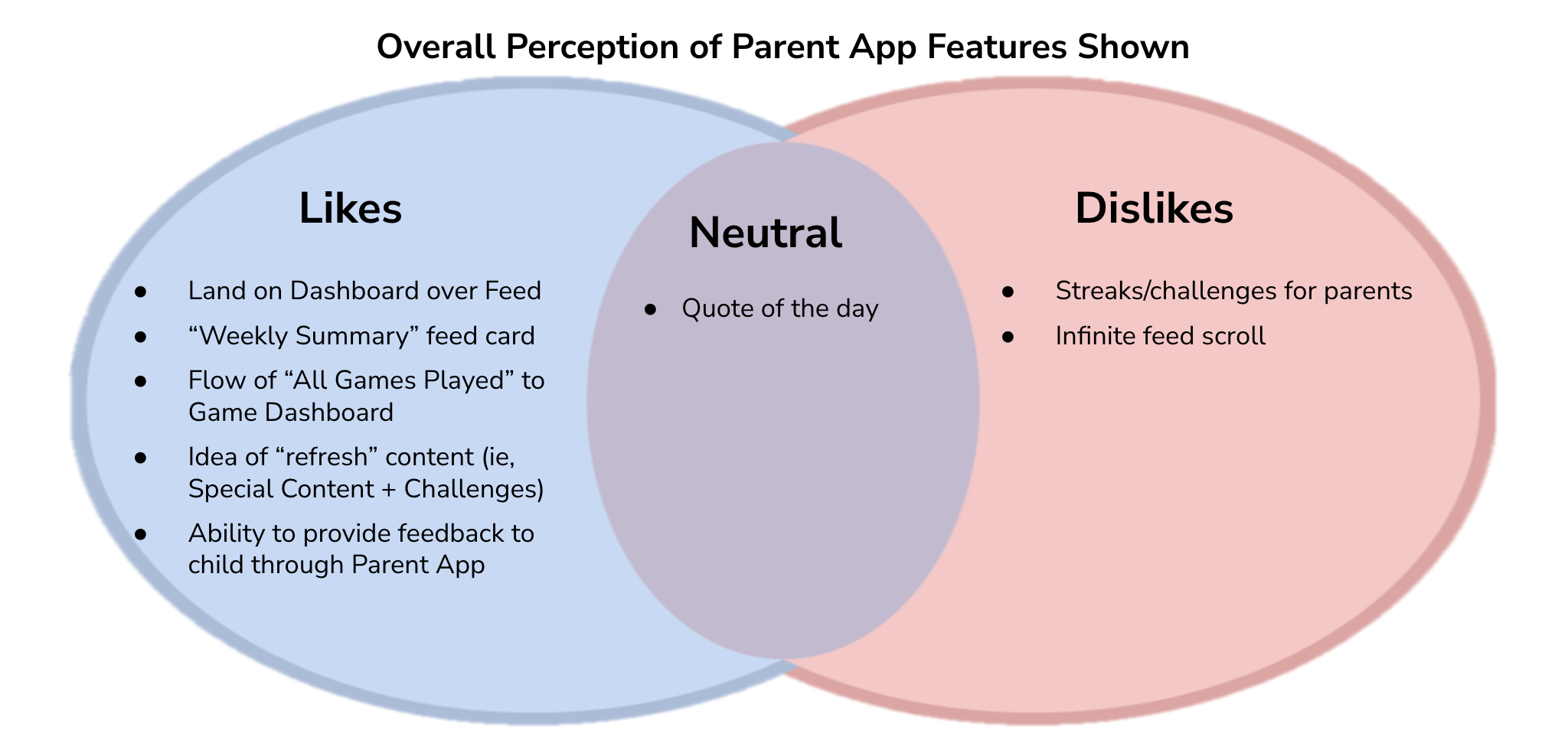 Next Steps
At the end of the project, the team sat down to reflect on unresolved issues and areas of focus for the next iteration.
Explore Push Notifications
Presents an opportunity to re-engage with parents instead of relying on streaks and gamification.
Adjusting Challenges
Adding flexibility in weekly challenges to allow for those who cannot play Osmo daily.
Content to Test
Effectiveness of updated game Dashboard

Utilization of Weekly Challenges and its value

Test weekly Parent Emails that we didn't have time for in this project
Learnings
I was fortunate to work with exceptionally talented individuals at Osmo. While Tony was delving deep into the art of conducting interviews, I was familiarizing myself with design principles. This project revealed the remarkable outcomes achievable when a designer and I work closely and are in sync. Additionally, it provided an avenue for me to apply my teaching background in an industry setting, leading to increased confidence among my colleagues in conducting their own interviews.
In hindsight, I'm left pondering why I didn't highlight the ambiguity surrounding "in-game rewards." Tony had shared a Loom video, giving me a walk-through of the prototype. While I did share feedback, perhaps I was overly cautious, not wanting to tread on what I perceived as the 'designer's turf'. However, this collaboration helped me recognize the reciprocal relationship between the roles of 'researcher' and 'designer' in a way I hadn't experienced before. It's a lesson I'll cherish and carry forward into all my future endeavors.
Thank you for reading my case study!